A few pictures and things that happened last month. See more pictures on my Instagram.
Algumas fotos e coisas que aconteceram no mês passado. Veja mais fotos no meu Instagram.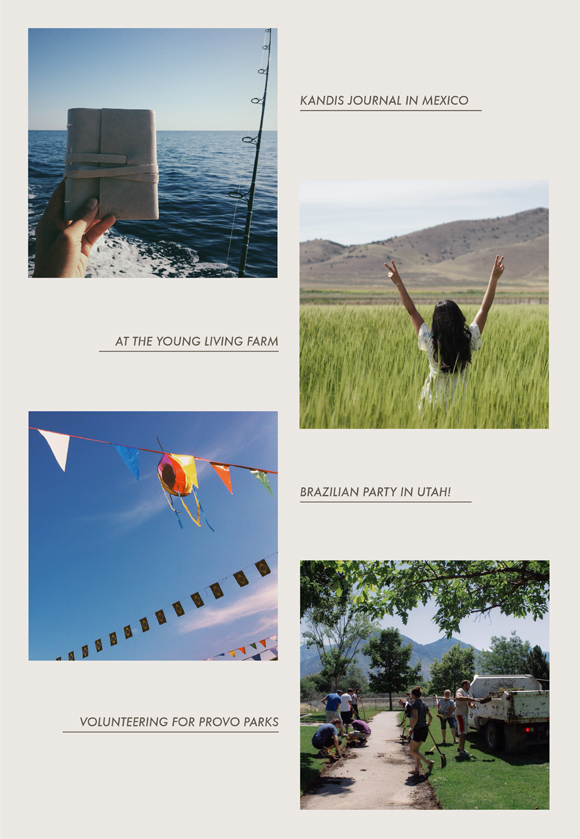 1. I started a new series for people who have the Kandis Design books to share their pictures wherever they go. It was so great to see pictures taken in Australia, Mexico, Canada, and New Zealand. I'm going to write a post about it to explain how you can join the movement.
2. I went to the Young Living Farms in Mona/UT, with the intention of visiting the lavender fields, but found out when we got there that you're not allowed in the lavender fields. So sad. :( So we spent the time walking on the farm, that's actually very beautiful. I'll tell you all about this trip in a later post, as I have lots of good pictures to share with you.
3. I went to the Brazilian party 'Festa Junina' here in Utah! In Brazil we have an annual party in June where people get dressed in costumes, there are typical food, and music from the north. I LOVE this party. It was great to eat Brazilian food again and to drink guarana! There were so many Brazilians at the party that I felt as if was in Brazil.
4. I started to be a volunteer for the Provo Parks, where I am going to be taking photos of people while they are cleaning, repairing and doing many other things to maintain the parks in Provo. I've been looking for opportunities to serve and I loved that this allows me to volunteer in a way I love so much, that's taking pictures! You can see the pictures I took on their page at this link.
1. Comecei uma série nova para pessoas que tem livros Kandis Design para compartilhar suas fotos onde quer que forem. Foi tão legal ver fotos que foram tiradas na Austrália, México, Canadá e Nova Zelândia. Vou fazer uma postagem aqui no blog sobre isso para explicar como você pode se unir ao movimento.
2. Fui no Young Living Farms em Mona/UT, com a intenção de visitar o campo de lavanda, mas quando chegamos lá ficamos sabendo que não é permitido ir no campo de lavanda. Triste. :( Então passamos tempo caminhando pela fazenda, que é muito bonita. Vou falar mais sobre esse passeio em outra postagem, já que tenho muitas fotos bonitas para compartilhar com vocês.
3. Fui numa Festa Junina aqui em Utah! Foi tão bom comer comida brasileira, tomar guaraná e ouvir músicas típicas de festa junina. Tinham tantos brasileiros lá que deu a impressão que estava no Brasil.
4. Comecei a ser voluntária para o Provo Parks (parques da cidade de Provo) onde vou fotografar as pessoas enquanto elas limpam, consertam e fazem muitas outras coisas para a manutenção dos parques em Provo. Estava procurando por oportunidades de servir e fiquei feliz demais de poder servir fazendo algo que amo tanto, que é fotografar! Você pode ver as fotos que fiz nesse projeto nesse link.