Many things happened in May. I moved from Draper to Provo, got busy with classes that started, and many other things that were going on…  I'm sharing a few pictures that I posted on Instagram, but you can follow me there to see more of what I have posted.
Muitas coisas aconteceram em Maio. Me mudei de Draper para Provo, começaram as aulas, e muitas outras coisas acontecendo… Compartilho algumas foto que postei no Instagram, mas você pode me seguir lá para ver mais coisas que acontece por aqui.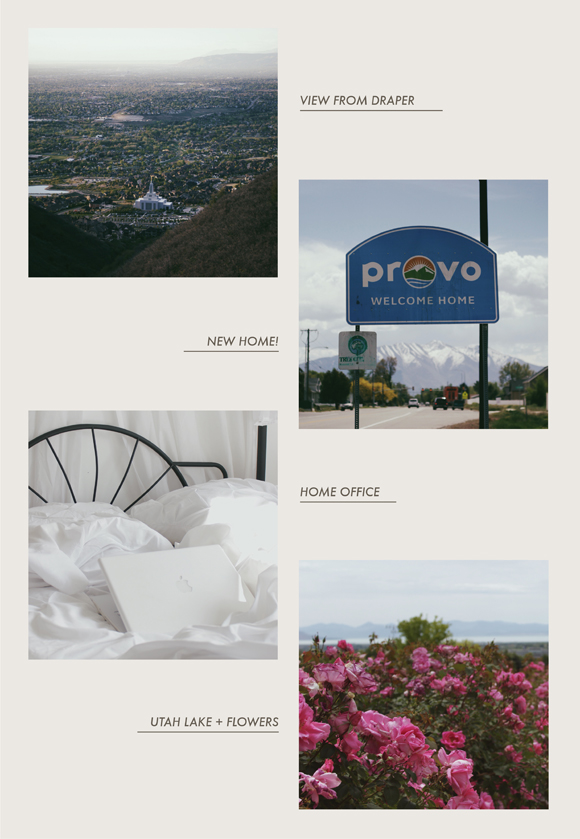 1. I said goodbye to this beautiful view in Draper where I lived for a month. I miss the valley's view that I used to have from my window!
2. New month, new life! I moved to the coolest city in Utah!! I am so happy to be living where I always wanted to be. Seriously, if you ask me today where in the world I would like to live, I would say Provo! This city has such good energy, lots of young people, and cool things to do.
3. My home office, because sometimes you just don't want to leave the bed.
4. I love this view from the Provo Temple. The flowers are gorgeous, and it gets even better with the view of Utah Lake.
1. Dei tchau para essa linda vista em Draper, onde morei por um mês. Saudades da vista pro vale que eu tinha da minha janela!
2. Mês novo, vida nova! Me mudei para a cidade mais legal em Utah! Muito feliz de estar morando onde sempre quis morar. Sério, se você me perguntar hoje onde no mundo eu gostaria de morar, eu diria Provo! Essa cidade tem uma energia muito boa, cheia de pessoas jovens e coisas legais para fazer.
3. Home office. Porque às vezes você simplesmente não quer sair da cama.
4. Amo essa vista do Templo de Provo. As flores estavam lindas, e fica ainda melhor com a vista para o Utah Lake.