Eu só estou quinze dias atrasada com essa postagem… Novembro começou e eu tinha muitas coisas para fazer, e fiquei tão focada que deixei tudo para trás: blog, meu quarto estava uma bagunça, cancelei planos com amigos e aí vai… Semana passada terminei tudo que tinha para fazer e pude voltar a fazer as coisas que gosto!
Falando sobre Outubro, bem, foi um mês ótimo! Fui de novo para NYC, primeira vez em Baltimore, fui num tour na Casa Branca, as árvores mudaram de cores e tudo ficou tão lindo. Outubro foi também o mês que mais postei fotos no Instagram. Foi difícil escolher apenas quatro fotos para a postagem!
I'm just fifteen days late with this post… November started and I had many things to do, I was so focused that left everything behind: blog, my bedroom was a mess, canceled plans with friends and so on… Last week I finished all I had to do and now I could come back doing the things I like!
Talking about October, well, it was great month! I went again to NYC, first time to Baltimore, I took a tour at the White House, the trees changed the colors and it turned so beautiful everywhere. October was also the month I most posted pictures on my Instagram. It was hard to choose just four for the post.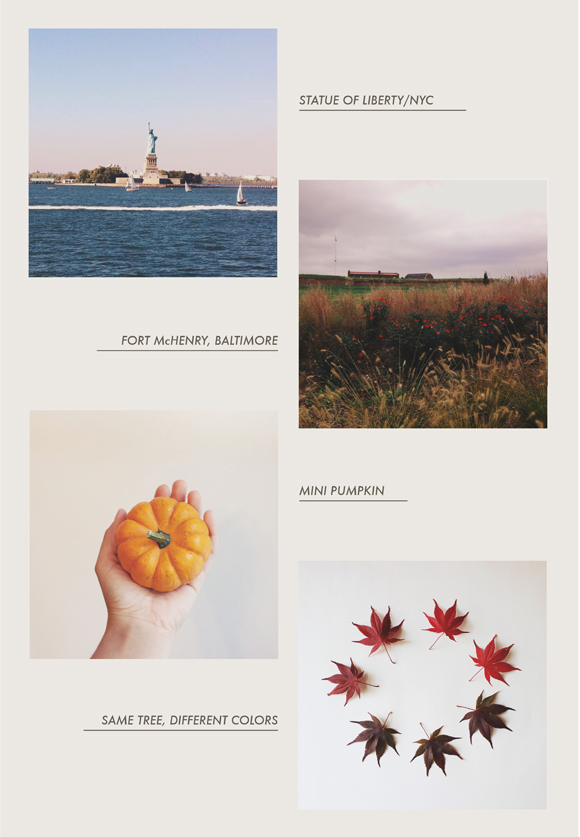 1. Fui pela quarta vez à NYC. Tive aula de encadernação no Textile Arts Center, visitei mais um monte de lugares que estavam na minha lista e fui no casamento de uma amiga! Foi muito legal e amei esses dias em NYC. Fui no passeio de Ferry e finalmente pude ver a Estátua da Liberdade um pouco mais de perto que da última vez. Estou pensando em postar sobre essa viagem aqui no blog. O que acha?
2. Uma semana depois da viagem de NYC fui para Baltimore/MD. Baltimore não estava no topo da minha lista mas como é tão perto achei que seria uma boa ideia visitar. Fui no Fort McHenry, tumba de Edgar Allan Poe, Lexington Market, no Harbor e alguns monumentos. Queria ter tido mais tempo para ver as coisas com mais calma.
3. Comprei essa abóbora pequenina e fofa no Temple Hall Farm quando fui no labirinto de milharal. Eu fiz uma postagem no sobre isso no blog, dá uma olhada!
4. As árvores mudaram de cores e comecei a coletar diferente tipos de folhas. Não são lindas?!
Espero que Outubro tenha sido bom pra você também!
____
1. I went for the forth time to NYC. I took a bookbinding class at the Textile Arts Center, visited many other places that was on my list and went to a friend's wedding! It was a lot of fun and I loved these days in NYC. I took the ferry and finally could see the Statue of Liberty a little closer than the last time. I'm thinking about posting about this trip on the blog. What do you think?
2. A week after the trip to NYC I went to Baltimore/MD. Baltimore wasn't on the top of my list but as it's close I thought it would be a good idea to visit. I went to the Fort McHenry, Edgar Allan Poe's grave, Lexington Market, the Harbor and some monuments. I wish I had more time to spend there and see the things calmly.
3. I bought this small and cute pumpkin at the Temple Hall Farm when I went to the corn maze. I posted about it on the blog, check it out!
4. The trees changed the colors and I started to collect different kind of leaves. Aren't them so beautiful?!
I hope that October has treated you well too!