Meus dias em Setembro foram ma maior parte do tempo em Washington D.C., Virginia e Maryland. Esses estados são tão próximos e isso é tão bom por ter tantas coisas para fazer sem precisar viajar pra longe.
My days in September were mostly spent in Washington D.C., Virginia and Maryland. These states are so close to each other and it's so nice to have lots of stuff to do without having to travel so long.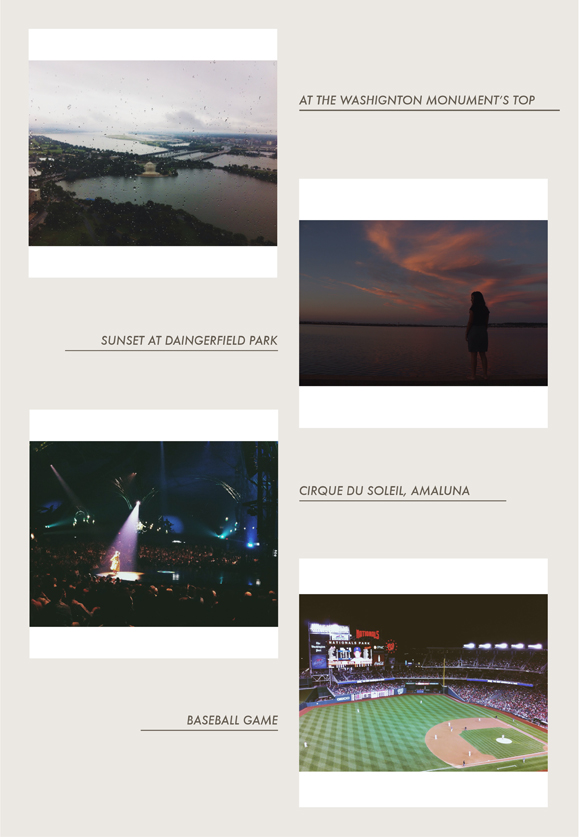 1. Tinha planejado de ir no tour do Washington Monument no segundo sábado, infelizmente estava chovendo naquele dia! Queria ter uma visão clara da vista do topo do monumento. Depois acabei gostando das fotos, a chuva na janela adicionou algo sentimental na foto, que não teria se fosse num dia ensolarado! Por fim, fiquei feliz de ter chovido naquele dia!
2. Nesses últimos meses fiz picnic quase todo domingo. Acho que é uma atividade perfeita para se encontrar com amigos e aproveitar a vista, comida e conversa boa. Costumávamos ir na beira do rio, em Alexandria. Eu gosto de explorar, então procurei por outros parques e encontrei o Daingerfield Park, que fica em Alexandria também. Não levei a câmera na primeira vez que fui, então voltamos no próximo domingo então tirei um monte de fotos lá. Tava tão lindo o pôr do sol, mas não como na primeira vez que fomos. Aprendi a lição, sempre traga a câmera!!
3. Fui com um amigo para ver o show Amaluna do Cirque du Soleil, no National Harbor em Maryland. Foi a primeira fez que fui numa apresentação do Cirque du Soleil e amei!
4. Por fim, fui pela primeira vez num jogo profissional de Baseball. Foi Washington Nationals vs NY Mets. Estou começando a entender as regras, mas mesmo não entendendo tudo, foi legal estar lá, para torcer para o Nationals, festejar e comer cachorro quente.
Veja mais fotos que postei em setembro no meu Instagram.
____
1. As planned I took a tour of the Washington Monument on the second Saturday. Unfortunately it was raining that day! I wish I could have had a clear view from the top of the monument. However, I ended up actually liking the pictures later. The rainy drops on the window added something sentimental to the picture, which I wouldn't have captured on a sunny day! For once, I was glad it rained that day!
2. These past months I've gone on a picnic almost every Sunday. I think it's a perfect activity to meet with friends, enjoy the view, the food, and good conversation. We used to go to the Waterfront in Alexandria, but I like to explore and find new spots. So I looked for others parks and found the Daingerfield Park, also in Alexandria. The first time I went I didn't take the camera, so I had to come back on the next Sunday. I took tons of pictures then. The sunset was so pretty, but not as pretty as the first time. I learned my lesson, always bring the camera!!
3. I went with a friend to see the show Amaluna, by Cirque du Soleil at the National Harbor in Maryland. It was the first time I'd been to a Cirque du Soleil's show and I loved it!!
4. Finally, I went to my first professional Baseball Game. It was the Washington Nationals vs NY Mets. I'm starting to understand the rules. Even not understanding it all, it was fun to be there, to cheer for the Nationals, party and eat hot dogs.
See more pictures I posted in September on my Instagram.