MIYNK (Make It Yourself Now), é um aplicativo para iPad desenvolvido por três francesas criativas com projetos DIY de diversos temas (cook, play, decorate, dress e beauty). O aplicativo (em inglês) vem com mais de 25 projetos que serão atualizados a cada seis meses, assim como a app com cores e design novo.
MIYNK (Make It Yourself Now), it's an app for iPad created by three creative frenchwoman with DIY projects based on different themes (cook, play, decorate, dress and beauty). The app comes with more than 25 projects which will be updated each six months, as well as the app, with new colors and a brand new design.
A versão gratuita vem com alguns projetos, você pode escolher comprar o pacote completo por $6,99 ou fazer a compra de cada tema separado por $1,99. Disponível na App Store.
The free version comes with only a few projects, or you can purchase full access for $6,99, or each theme for $1,99. Available at App Store.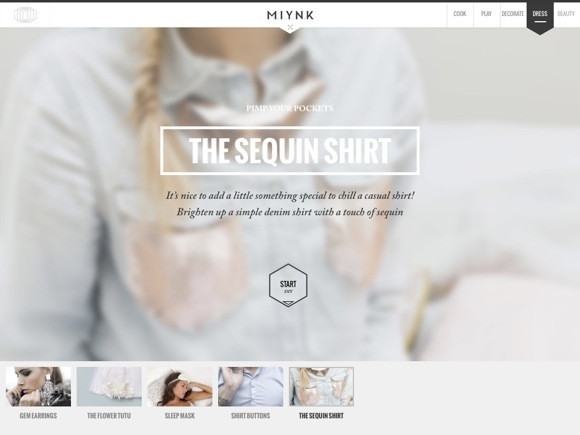 Os projetos vem com tutoriais detalhados em imagens ou stopmotion, lista de materiais para comprar e tempo de duração necessário para fazer o projeto. Com design agradável, fotos de qualidade e modelos reais. O aplicativo vai te deixar inspirada e com vontade de criar.
The projects come with image or stopmotion detailed tutorial, a shopping list with the materials to buy and time to create the project. The app is beautifully designed, with high quality pictures and real models. You will be so inspired to create now.