A few pictures and things that happened last month. See more pictures on my Instagram.
Algumas fotos e coisas que aconteceram no mês passado. Veja mais fotos no meu Instagram.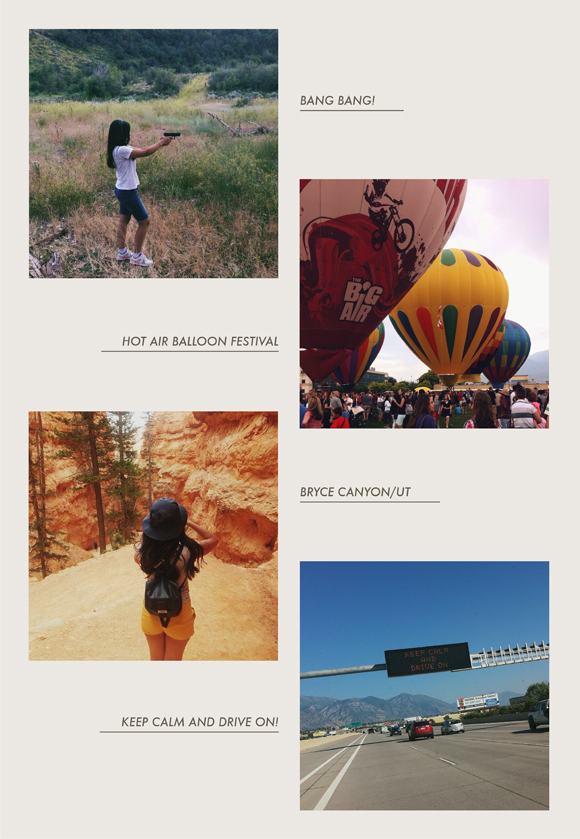 1. I went with some friends to Provo Canyon to shoot guns. It was my second time and I was still scared, but after a little while I started to feel more comfortable using a gun and I had a good time there.
2. Me and my roommate woke up at 6:00am to go to the Hot Air Balloon Festival. There were so many balloons at the park and it looked so beautiful!! It was the first time I'd seen a hot air ballon so close and I was very excited about it. Unfortunately because of the weather conditions the balloons couldn't fly and I was a bit disappointed about it. Oh well, at least I got some pictures.
3. We went on a road trip to Bryce Canyon and Zion National Park for the weekend! It was AMAZING!! I've never seen any kind of canyon before so it was something new to me. I'm going to post about this trip on the blog, stay tunned for the future posts.
4. Usually banners freeways have boring messages and I was surprised one day, while I was driving on the I-15, to read 'Keep Calm and Drive On'! I love americans' sense of humor and that reminded me again why I love to live in this country!
1. Fui com alguns amigos para atirar no Provo Canyon. Aquele lugar é tão lindo, cheio de florzinhas coloridas, me deu vontade de voltar lá pra uma sessão de fotos! Foi a segunda vez que atirei e estava um pouco nervosa mas com o tempo fiquei mais confortável e me diverti bastante.
2. Eu e minha colega de quarto acordamos às 6h da manhã para ir no Festival de Balão. Tinham muitos balões no parque e estava tão lindo!! Foi a primeira vez que vi um balão tão perto e estava bem animada por isso. Infelizmente por causa das condições climáticas os balões não puderam voar e fiquei um pouco desapontada, mas bem, consegui umas fotos pelo menos.
3. Fomos numa viagem de carro para o Bryce Canyon e Zion National Park para o fim de semana! Foi MARAVILHOSO! Nunca tinha visto nenhum tipo de canyon então foi tudo diferente pra mim. Eu vou postar sobre essa viagem aqui no blog então fique de olho nas futuras postagens.
4. Normalmente esses banners tem mensagens de aviso ou outras coisas chatas, e fiquei tão surpresa quando estava dirigindo na rodovia e li 'Keep Calm and Drive On'! Eu amo o senso de humor dos americanos e isso me lembrou de outro motivo porque eu amo morar nesse país!