Minha nossa! Já é quase hora de postar sobre Dezembro e ainda não tinha postado sobre Novembro. Quem se importa?! Bem, eu me importo, e talvez alguns de vocês se importam também. Tenho que dizer que Novembro e Dezembro tem sido sem corridos… O tempo voa, semana que vem é Natal, depois um ano novo, e então estarei me mudando de novo! Tantas coisas acontecendo últimamente!
Oh my! It's almost time to post about December and I haven't posted about November. Who cares?! Well, I do, and hopefully some of you care too. I have to say November and December have been so busy… Time flies, next week is Christmas and then a new year, and then I'll be moving again! So many things happening lately!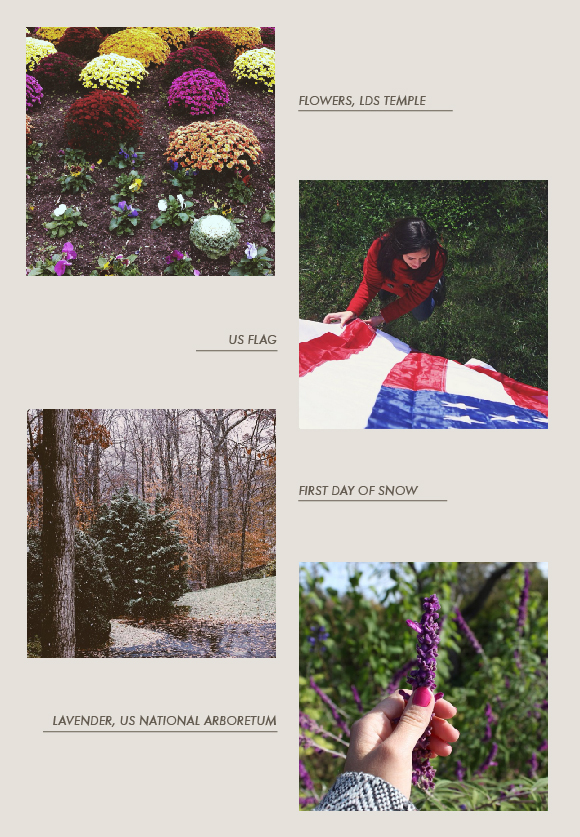 1. Eu amo os jardins dos Templos SUD! É sempre tão bonito e eles mudam de flores frequentemente, um lugar perfeito para quem ama flores como eu!
2. Em Novembro completou um ano que estou morando em Virginia! Viva!!
3. A neve veio em Novembro! Ainda bem que foi apenas uma chuva de neve e não durou muito. Mas foi muito bonito de ver!
4. Fui no US National Arboretum em DC e amei muito aquele lugar! Essas lavandas cheiravam tão bom!
Visite meu Instagram para ver mais fotos.
____
1. I love the LDS Temple's garden! It's always so beautiful and they change the flowers frequently, it's so perfect for whom love flowers like me!
2. I had my one year anniversary living in Virginia! Hooray!!
3. The snow came in November! Hopefully it was just a snow rain and it didn't last longer. It was beautiful though!
4. I went to the US National Arboretum in DC and loved that place so much! These lavenders smelled so good!
Check my Instagram to see more pictures.